Welcome to the InnoRadar!
Here, you will find more than 50 research results and innovations of Technical University of Applied Sciences Wildau and the research area PYCO of Fraunhofer IAP. Our platform provides you with the option of rapidly screening your personal fields of interest and the respective contact persons. For your best benefit, our transfer scouts have compiled already accessible technologies, prototypes, methods and algorithms of researchers with regard to the knowledge fields of "life sciences", "digital integration" and "lightweight construction" into respective transfer profiles. Through this new portfolio of an "InnoRadar"" we would like to foster discussion and exchange, strive for innovation and set new stimuli for further activities in research and development.
Are you interested in getting to know more about specific methods and technologies, or do you have any feedback on the InnoRadar? Please feel free to contact us, we are looking forward to receiving your message!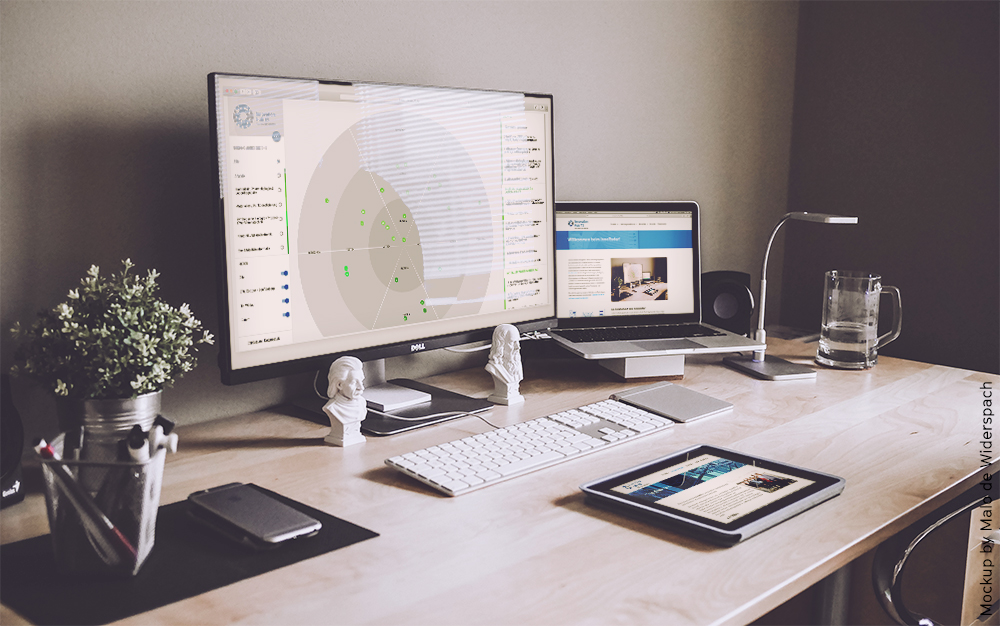 This is how the InnoRadar works InnoRadar
Each InnoRadar is structured into six sectors, which correlate with the technology areas of the respective science field. Thus, you are able to rapidly identify already accessible technological findings and settings. By means of the categories of "Researching", "Testing" and "Using", to be found on rings and generated according to their technological maturity level (TML, German TRL), you can easily grasp the respective development stage. In the left column, you have the possibility to filter the results according to your personal needs and areas of interest. By clicking on one of the items within the sectors, you subsequently have access to the digital transfer profiles.
Digital Integration
The area "digital integration" deals with the target-oriented and most beneficial integration of digital technologies into different and quite various fields, for example production and manufacturing, mobility, public health or other application areas. The focus is set not only on joint research, development and testing, but also on the utilisation of existing technologies/developments as well as on the assessment and counselling with regard to the below-mentioned six topics. However, transitions between these categories are often fluid, since many technologies and applications intertwine.
Data Technologies
Digital Business
Technical Components
Software & Applications
Internet of Things
Smart Production
Lightweight Construction
The key technology "lightweight construction" aims not only at achieving the maximum weight reduction, but also at saving resources and energy.
The range of lightweight construction-relevant research and developments at our regional research institutions comprises:
Polymers
Composites
Metal
Hybrid Materials
Simulation & Test
Manufacturing
Life Sciences
The field of "life sciences" (biosciences) is a highly interdisciplinary knowledge area which deals with the complexity of living nature. Its scientific issues are located at the interface of physics, medical science and engineering. This broad range can thus also be found with regard to the subject areas which are analysed and researched at Technical University of Applied Sciences Wildau and Brandenburg Technical University Cottbus-Senftenberg:
Analytics
Biomedicine, pharmacology and laboratory diagnostics
Materials / functionalisation
Synthetic biology / process technology
Photonics / Microelectronics
Bio- and medical informatics
Your Feedback
Do you have suggestions for improvement? We strive for continuous advancement of our InnoRadars. Please feel free to leave a comment with regard to the existing results – it is in particular in this way that we are able to provide you with the information you need. You can also contact us via email to: info@innohub13.de .
Do you have questions, suggestions, ideas or specific projects? We are looking forward to talking to you!
Brandenburg Technical University Cottbus-Senftenberg
Platz der Deutschen Einheit 1
03046 Cottbus
→ Map
The "Innovation Hub 13 - Fast Track to Transfer" of the Technical University of Wildau and the Brandenburg Technical University of Cottbus-Senftenberg is one of the 29 selected winners of the federal government funding initiative "Innovative College", equipped with funds of the Federal Ministry of Education and Research BMBF And the state of Brandenburg. Further information can be found at www.innovative-hochschule.de